All courses use LifeGate Education's
proprietary e-learning platform. It's flexible,
interactive, and continuously traces
learners' progress.
A course system based on quality, participation, and constant interaction.
After registering, you'll have access to your private dashboard, from which you can access selected courses, monitor your performance over time, access the calendar for monthly training appointments, get to know your teachers, and much more.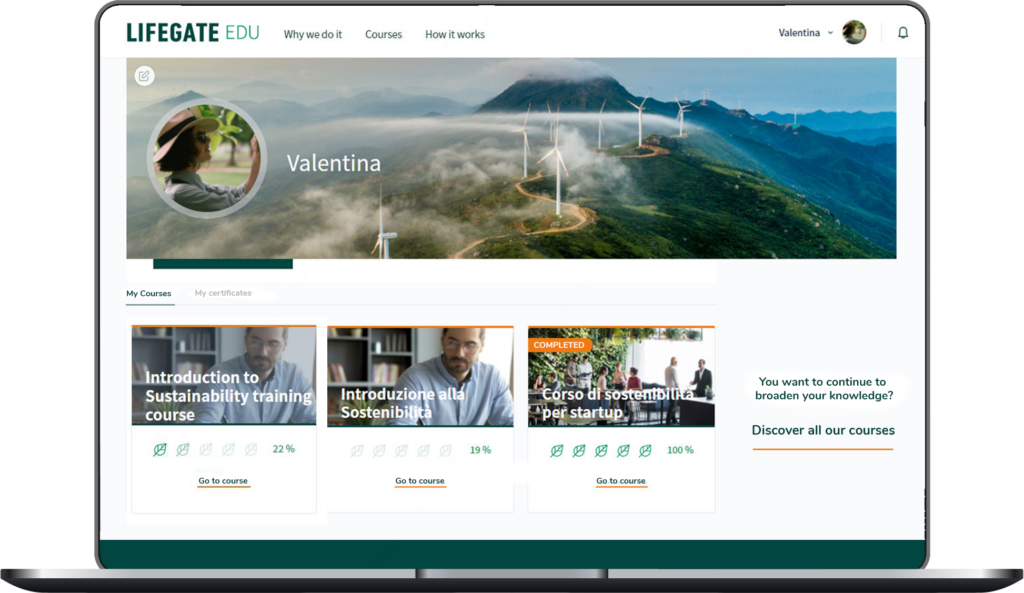 WHAT A LIFEGATE EDUCATION COURSE OFFERS YOU
At the end of the course, the user will have learned
Dozens of hours of lessons with LifeGate's experts
Many professionals in the world of sustainability are making their knowledge and expertise available on a variety of subjects, including strategic consulting, the Circular Economy, Carbon Neutrality, New Green Jobs, sustainable stakeholder and supply-chain management, the drafting of socio-environmental reports, etc.
Up to date and high-quality
content, always
High-quality content that's always up to date: We also never stop learning: through constant contact with companies, taking part in conventions and conferences in the sector, and a newsroom that's always in contact with the latest news, our content is always updated and reliable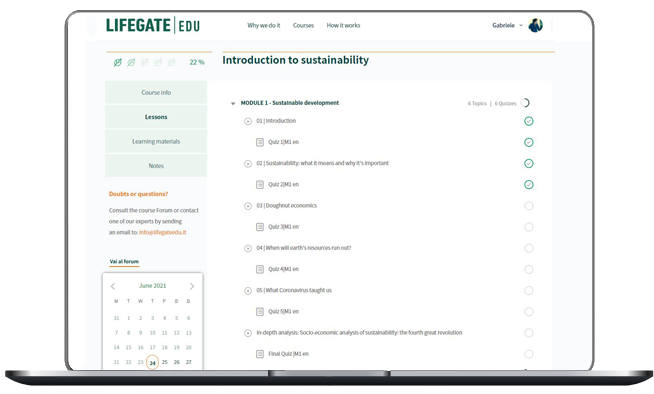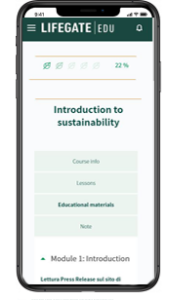 Insights from
the most authoritative figures
in the world of sustainability
Contributions from scientists, experts, business leaders, entrepreneurs, and respected authors regarding environmental, social, and economic issues
Diverse training
materials
Video lessons, webinars, visual presentations, with the integration of external content like articles, reports, videos, and e-books
High level
of participation
The courses are built in a highly interactive way, to facilitate the most complete understanding and keep attention and interest levels high at all times
Progress monitoring
and tracing
Knowledge and involvement are continuously monitored during the entire course through quizzes, multiple choice questions, true or false exercises, role playing, and drag and drop, to cite a few
Opportunity for discussion
with the trainers
You can get to know your teachers during live sessions and send them questions and requests for further information
Class activities and
discussion forums
During the courses, class discussions and exercises can be held in which every user contributes to a specific topic
Accessible resource and
materials archive, always
All the course resources are available in a dedicated archive that's always accessible
If you require further information please contact us at this address: